M2M MiNi-LTE-M-AV Promo
USA Central Station is offering an AMAZING promotion on M2M Communicators!
For $84 each you get the M2M MiNi-LTE-M-AV communicator that is 5G ready with LTE-M, and ONE YEAR OF MONITORING & CELL SERVICE INCLUDED!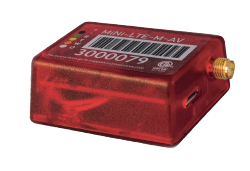 Dual-SIM on AT&T/Verizon LTE-M networks.
UNIQUE HARDWARE-AS-A-SERVICE BUSINESS MODEL
LTE-M on AT&T and Verizon networks (model specific)
FUTURE-PROOF LTE-M TECHNOLOGY
Upload/Download via RING/TIP to selected panels
INTERACTIVE FEATURES
Smartphone App for end users and Admin App for installers
FORWARD COMPATIBLE WITH SMART HOME
Flat-rate low monthly fees for improved profitability
PURCHASE INSTRUCTIONS
Click 'Buy Now' button below to purchase securely through PayPal. Make sure to enter the quantity of Radios and monitoring that you want to purchase.
After completing the purchase you will be directed to another page to complete another form and agree to the monitoring plan.
Click 'Buy Now' below to begin the purchase with PayPal:
Not already a USA Central Station Dealer? Call us today to become a dealer and take advantage of this amazing promotion!
Order an antenna for your radio as well: GSM-ANT3 GSM antenna, 10ft Cable, SMA connector $9.00 + $5 shipping: